Artist's Statement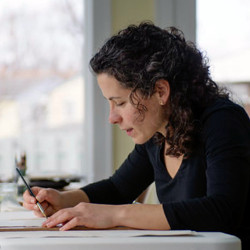 My paintings are about the beauty in nature. I believe that the beauty found in nature enriches our existence. Natural forms, elegant lines, bold colors, and the intrinsic details found in nature are the themes in my work. My most recent paintings explore the interaction between humans and the natural world. Nature is incredibly resilient as it continues to persevere in the face of man-made threats.
When painting I try to represent nature accurately, but also from my own viewpoint. I usually start a painting observing from life, with the subject in front of me. I prefer to work from life for as long as possible, forgoing using photographs in an effort to capture the true essence of my subjects. I use either oil or watercolor in thin transparent layers; this technique creates a luminous glow throughout the piece. My work has been influenced by the "Old Masters"—Italian and Spanish still life painters, and Dutch flower painters. The daily inspiration for my artwork comes from nature—as Albrecht Durer said, "For verily, art is embedded in nature; he who can extract it, has it."
About the Artist
Bridget Bossart van Otterloo paints and teaches art in Corning, New York. She has a degree in Studio Art from Houghton College. Bridget moved to Corning in 2002 to work as an apprentice and studio assistant for local artist Thomas S. Buechner. She currently works from her naturally lit studio, where her subjects include still life, flowers, plants and landscapes painted in both oils and watercolors. Bridget has taught art classes at local youth centers, museums, Corning Community College, and has been on the faculty of 171 Cedar Arts Center in Corning since 2002. Bridget is an active participant in the Corning art community.